Warsaw, Poland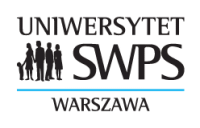 Communication in Business
Master's
Language:
English

Subject area:
journalism and information
Kind of studies:
full-time studies, part-time studies
Description:

pl
Communication in Business Program includes subjects such as: general management theory, marketing, communication, interpersonal relations, and influencing skills. Additionally, during workshops, students gain practical competencies in the following areas: presentation skills, public speaking, team work, and business writing. Some of the classes are conducted by business experts and managers actively working in various firms and corporations. During the course of studies, students have an opportunity to visit several companies and organizations, meet business professionals and previous graduates of the Communication in Business specialization. Thanks to their English proficiency, communications skills, business acumen and multicultural awareness, graduates of the Communication in Business Specialization build successful careers in areas, such as: public relations, marketing, corporate management, and business administration in Poland and abroad.